Voca-Beat Vocal School tells you about the Folk music genre. Teachers of the Voca-Beat vocal school will talk about various areas of music and help you find yourself in vocal art.
Folk (aka folk music, folk music, musical folklore) is often considered only a component of folk art. However, now that traditional music goes beyond the boundaries of each specific nation, it can be called an independent branch of musical art.
Folklore has long opposed the so-called professional music. Nevertheless, for many nations, professional music (in the European sense) is still inseparable from folklore. It is believed that folklore is different from professional
music by the fact that folk is created, for the most part, by rural residents, is passed down from generation to generation orally and does not require classical music education.
In the world there are styles that, like folklore, are oral, but very different, and sometimes opposed to it. These are Indian ragas, Irish destagahs, Arabian makamas and much more. Now the process of creating and distributing music has changed significantly due to the technical process, which entailed some changes in the music itself: adapted instruments, a different presentation.
Modern folk can be performed by both professional musicians and amateurs. More often this work is "for oneself" and not for the public, and this distinguishes folk from academic and popular music.
Often folk music is closely connected with religion, arises from it and intertwines with it. Christmas melodies, which are performed in almost all countries of the world, are considered folk, although they reflect the religious views of the majority.
All the main characteristic features of folk music were formed in the preliterate period of music. The study of the traditions of those times is possible thanks to preserved musical sources, such as treatises on music, testimonies of travelers, annals, musical instruments and manuscripts, archaeological sites. In addition, these melodies and lyrics are still transmitted by word of mouth, then they are collected bit by bit by experts and recorded.
To concretize the concept of "folk music", its regional and then genre differentiation is necessary.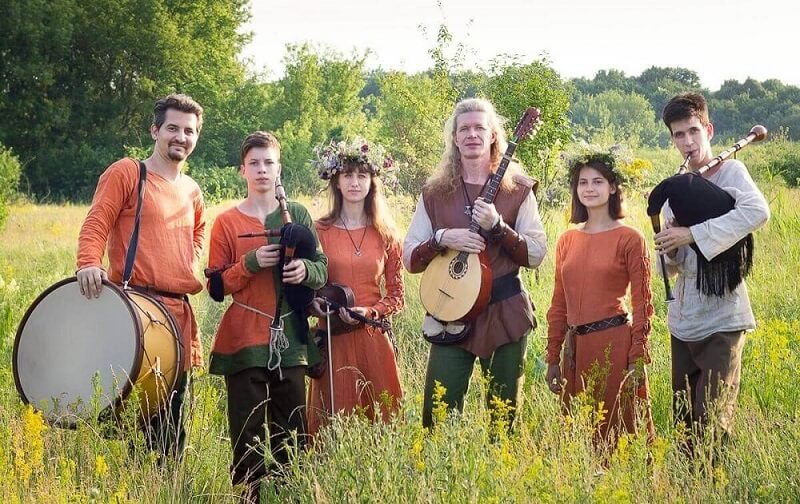 Where to start studying folk music and what artists to familiarize yourself with?
Since I am more or less familiar with modern folk / folk rock of North America and, to a lesser extent, Great Britain, I will answer about them. I don't know anything about any variations close to ethnic music, but since you have folk-rock tags, I will allow myself to offer the next chaotic guide.
About blues, it's enough to start to know that there are delta blues (acoustic) and Chicago blues (electric). Of course, the first option is closer to folk, but both are worth listening to, especially since the same artists played: Muddy Waters, Johnny Lee Hooker, Buddy Guy, Junior Wells, Howlin Wolf and others. So that your eyes do not run away from the abundance of releases, I will give two of the best, to your taste, sample.
Delta Blues:
John Lee Hooker – Plays and Sings the Blues (1961)
Muddy Waters – Folk Singer (1964)
Chicago blues
Junior Wells' Chicago Blues Band – Hoodoo Man Blues (1965)
Howlin 'Wolf – Howlin' Wolf (1962, compilation)
Further, folk and folk rock, although I still have to write about country, soul and funk, but I understand them very superficially superficially. The main figures. 60s-70s: Leonard Cohen ("early"), Bob Dylan ("early", before Bringing It All Back Home – pure folk, later folk rock), Neil Young, Nick Drake, Van Morrison, Joni Mitchell, Jackson C Frank, Tim Buckley. And so that it doesn't turn out as if some Americans were playing, I'll add Pentangle and Fairport Convention. You can also remember about Led Zeppelin, who actually played blues rock and folk rock (see the third album), but relate to hard rock sideways) 80s: TOM WAITS (in capital letters, because Waits he didn't play, he's his own genre, but the blues, of course, are at the heart of the genre), The Pogues (the best irish folk / rock band). And now more of the 80s I can't remember anyone. Perhaps I have a knowledge gap, but it was a time of heavy metal, synth pop and the birth of alternative rock, what kind of folk is it. Well, Talking Heads, in fact, funk rock played.
90s-00s: Elliott Smith, Bon Iver and other indie folk, Nick Drake's heirs in a new round of popular music; a series of American recordings cover albums by Johnny Cash (the most popular country singer in America, however, there are no country songs on American's themselves). The emergence of alternative country, the great and underrated band 16 Horsepower (Sackcloth 'n' Ashes album (1996) is probably exactly what you are looking for), the equally great and even more underrated Jay Munly (who hears this name for the first time, and doubts deserved epithet, listen to Munly & the Lee Lewis Harlots (2004).
Naturally, about the 90s-00s this is to a large extent tasteful, although, as far as I know, there were no other prominent figures playing folk. Such a hasty and very incomplete list. I'll write about soul: (in chronological order) Nina Simone, Aretha Franklin, Otis Redding, Curtis Mayfield, Marvin Gaye, Sly & The Family Stone (this group is also suitable for acquaintance with funk, by the way), Stevie Wonder.